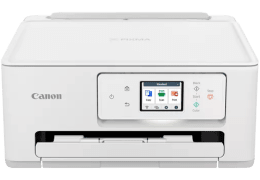 Canon TS7650i driver: Printer, scanner and WiFi installation software. Operating systems: Windows 11, 10, 8.1, 8, 7; macOS 13–10.12; and Mac OS X 10.11.
Category: All-in-One + WiFi.
Software: Scanner and printer driver installer.
Available languages: English and others.
Windows Wireless and USB drivers 32/64-bit(1)

(1) To connect the equipment to the WiFi Network, use the control panel or follow the instructions in the user manual.
macOS / Mac OS X Wireless drivers

💡 This product is compatible with Mac using Apple AirPrint.
Compatible operating systems
Microsoft Windows: 11, 10/8.1/8/7 (32/64-bit).
macOS: 13.x (Ventura), 12.x (Monterey), 11.x (Big Sur), 10.15 (Catalina), 10.14 (Mojave), 10.13 (High Sierra).
Drivers version
Windows: Hold.
Mac: Not available
Available languages
Windows: English, French, Spanish, Italian, German, Danish, Finland, Dutch, Norwegian, Swedish, Russian, Arabic, Czech, Greek, Hungarian, Polish, Portuguese, Turkish, Estonia, Croatian, Lithuanian, Latvian, Slovene, Slovensky, Ukrainian, Bulgarian, Romania, Indonesian, Japanese, Korean, traditional Chinese, Thai, Vietnamese, Simplified Chinese.
Mac: Multi-language.
Available installation files
Printer driver.
Scanner driver.
Wireless connection utility.
Setup utility.
Further information
Capabilities: Print, scan, copy.
Standard Interfaces: Hi-Speed Universal Serial Bus, Wireless 802.11b/g/n.