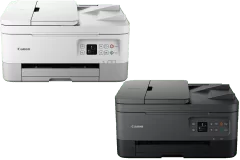 Canon TR7020 driver. Printer and scanner installation software. Operating systems: Windows 10, 8.1, 8, 7 & Apple macOS 10.15 – 10.12 / Mac OS X 10.11.
Category: Color All-in-One.
Software: Scanner and printer driver installer.
Available languages: English, others.
Windows 32 / 64 bits

No driver needed, please use Apple AirPrint.

macOS / Mac OS X

List of supported operating systems
Microsoft: Windows 10 32 / 64-bit, Windows 8.1 32 / 64-bit, Windows 8 32 / 64-bit, Windows 7 32 / 64-bit.
Mac: macOS 10.15.x Catalina, macOS 10.14.x Mojave, macOS 10.13.x High Sierra, macOS 10.12.x Sierra, Mac OS X 10.11.x El Capitan.
Drivers version
Windows: v1.0
Mac: No information.
All supported languages
Windows and Mac: Multi-language.
Software Included
Printer driver.
Scanner driver.
Setup utility.
Download / Installation Procedures:
Be sure to connect your PC to the Internet while performing the following:
Download the file. For the location where the file is saved, check the computer settings.
Double-click the downloaded .exe file. It will be decompressed and the Setup screen will be displayed.
Follow the instructions to install the software and perform the necessary settings.
More details
Capabilities: Printer with scanner and copier.
Connectivity: Wireless 802.11b/g/n, USB 2.0 High-Speed, Bluetooth.