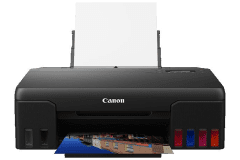 Canon G550 driver. Printer and scanner installation software. Operating systems: Windows 11, 10, 8.1, 8, 7,  Apple macOS 14.0-10.12 and Mac OS X 10.11.
Classification: Color All-in-One.
Software: Scanner and printer driver installer.
Language of the available files: English, others.
Windows 32 / 64 bits

macOS / Mac OS X

💡 This product can be used to print from a Mac computer without having to install any additional software. AirPrint is a built-in macOS feature that allows users to print wirelessly to compatible printers.
System Compatibility
This product works with both Windows and Mac operating systems.
Microsoft:
Windows 11.
Windows 10 (32-bit and 64-bit)
Windows 8.1 (32-bit and 64-bit)
Windows 8 (32-bit and 64-bit)
Windows 7 (32-bit and 64-bit)
Mac:
macOS 14.0 Sonoma.
macOS 13.0 Ventura.
macOS 12.0 Monterey.
macOS 11.0 Big Sur.
macOS 10.15.x Catalina.
macOS 10.14.x Mojave.
macOS 10.13.x High Sierra.
macOS 10.12.x Sierra.
Mac OS X 10.11.x El Capitan.
These are the supported operating systems for the product, ensuring compatibility with a wide range of Microsoft Windows and Mac operating system versions.
Drivers and software version
Windows: v1.1
Mac: No data.
Languages, detailed information
Supported Languages for Windows:
• English
• Spanish
• Arabic
• Bulgarian (BG)
• Czech
• German
• Danish
• Estonian (EE)
• Finnish
• French
• Greek
• Croatian (HR)
• Hungarian
• Indonesian
• Italian
• Japanese
• Korean
• Lithuanian (LT)
• Latvian (LV)
• Dutch
• Norwegian
• Polish
• Portuguese
• Romanian (RO)
• Russian
• Northern Sami
• Slovenian (SI)
• Slovak (SK)
• Traditional Chinese (TC)
• Thai
• Turkish
• Ukrainian (UA)
• Vietnamese (VN)
• Chinese (Simplified and Traditional)
These languages are supported in the Windows operating system, providing a diverse range of language options for users to choose from and ensuring a localized experience.
Supported Languages for Windows:
Available software
Printer driver.
Scanner driver.
Setup utility.
Additional Information
Functions: Printer with scanner and copier.
Interfaces: Wireless 802.11b/g/n, USB 2.0 High-Speed.